Flowers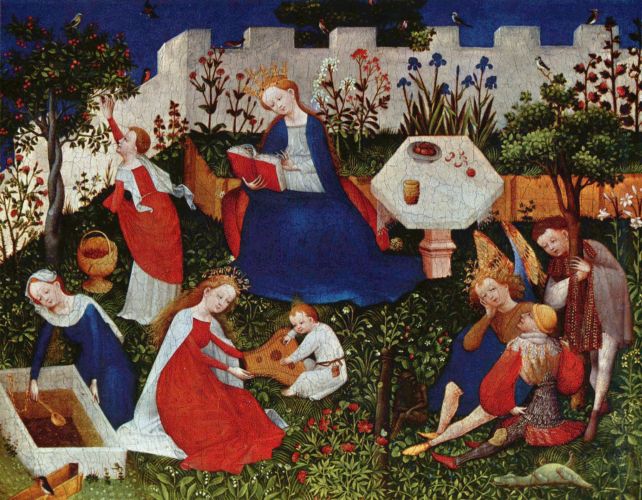 Upper Rhenish Master, Little Garden of Paradise (c. 15th century)
About
In addition to having their own rubrics, flowers have rich traditions in Catholicism, history, art, culture, and music! Below are relevant resources, rubrics (also on the Rubrics page), and some notes from my own floral research.
Choosing flowers
Your choice in flowers should be guided by the interior deisgn of the church where you will marry, the colors you have already chosen, and the season. There are numerous resources available to assist with finding or narrowing down your flower options, which I'll cite throughout this page.
The most popular custom regarding flowers in Catholicism is Mary gardens.1 Mary gardens are a custom - dating at least to medieval Europe - of dedicating a garden to the Blessed Mother and growing plants associated with her. The flowers and herbs with Marian associations are quite extensive, from rosemary (Mary's rose), to bleeding hearts (Mary's heart), to ferns (Mary's hair). FishEaters provides an excellent list of flowers and their Marian associations.2
For those with the resources and inclination, growing a Mary garden for one's wedding is a praiseworthy custom. (Of course, you can grow a Mary garden at any time - but weddings are obviously more relevant here.) If you plan to give a bouquet to Mary during your wedding Mass, perhaps that bouquet could come from your own garden, or a friend's garden. Jenn Stark's website Happy DIY Home is a good starting point with, for example, their post on care for bleeding hearts3.
For those more interested in flower histories and symbolism, see Gemminger's book Flowers of Mary4, the blog The Pious Spinster5, and Wells' book 100 Flowers and How They Got Their Names6.
Rubrics
For a short, helpful overview on both choosing flowers and navigating rubrics, see Flower Arrangement in the Church by Katharine M. McClinton.7
Flowers on the altar should be either fresh and cut, or if they are artificial, of the highest quality. Potted/rooted plants should not be placed on the altar, as the cut plants symbolize a sacrificed life. 8
Flowers around the church may be fresh and cut, artificial, or potted. The flowers should be beautiful, and harmonious with the church when possible. 7
My bouquet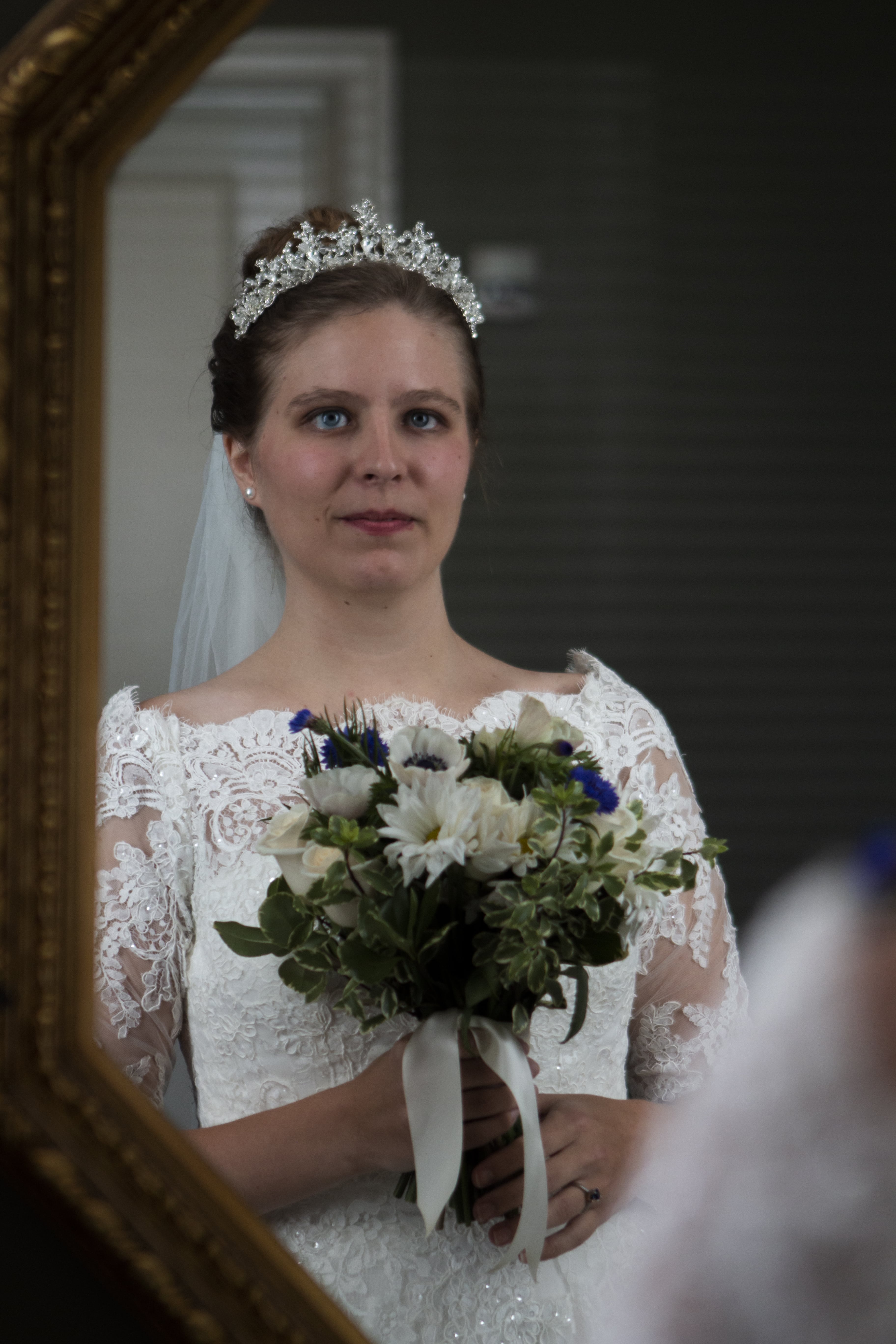 My bridal bouquet (description from my wedding program):
The cornflower 9 10 is one of Germany's national symbols. They are associated with faithfulness and the Habsburg monarchy. The last ruling Habsburgs, Karl and Zita, are on their way to sainthood, and are two of the only (almost) saints to be venerated specifically for the vocation of marriage. Rue 5 is the national herb of Lithuania, and commonly used by Lithuanian brides for hair wreaths. […] During the Medieval Era, it became popular to dedicate a garden to Mary, and over time, numerous plants became associated with her. The flowers we have chosen stem from this tradition. Roses 1 11 and Sweet Williams both have a Marian connection, and a connection to the bride's and groom's names (Rose of Sharon, and William). Anemones 6 have an historical connection to both Mary and the Crusades. (Post-wedding note: I was unable to get sweet williams, so I added daises.12)
Sources