Velatio Nuptialis
Photo: Allison Girone, 2022
"Ille jugans capita amborum sub pace jugali, velat eos dextra, quos prece sanctificat."

"He, joining the heads of them both under a nuptial peace, veils them with his right hand, sanctifying them with prayer."

Paulinus of Nola (5th century)
About
The velatio nuptialis, or nuptial veil, is an ancient wedding custom. It may also be called a care cloth or wedding canopy. Like all wedding customs and texts, it has a complicated and rich history.
In practice, it's quite simple: during the Nuptial Blessing, a cloth is held over the heads of the bride and groom.
Below is a collection of photos and histories of this beautiful custom.
Photos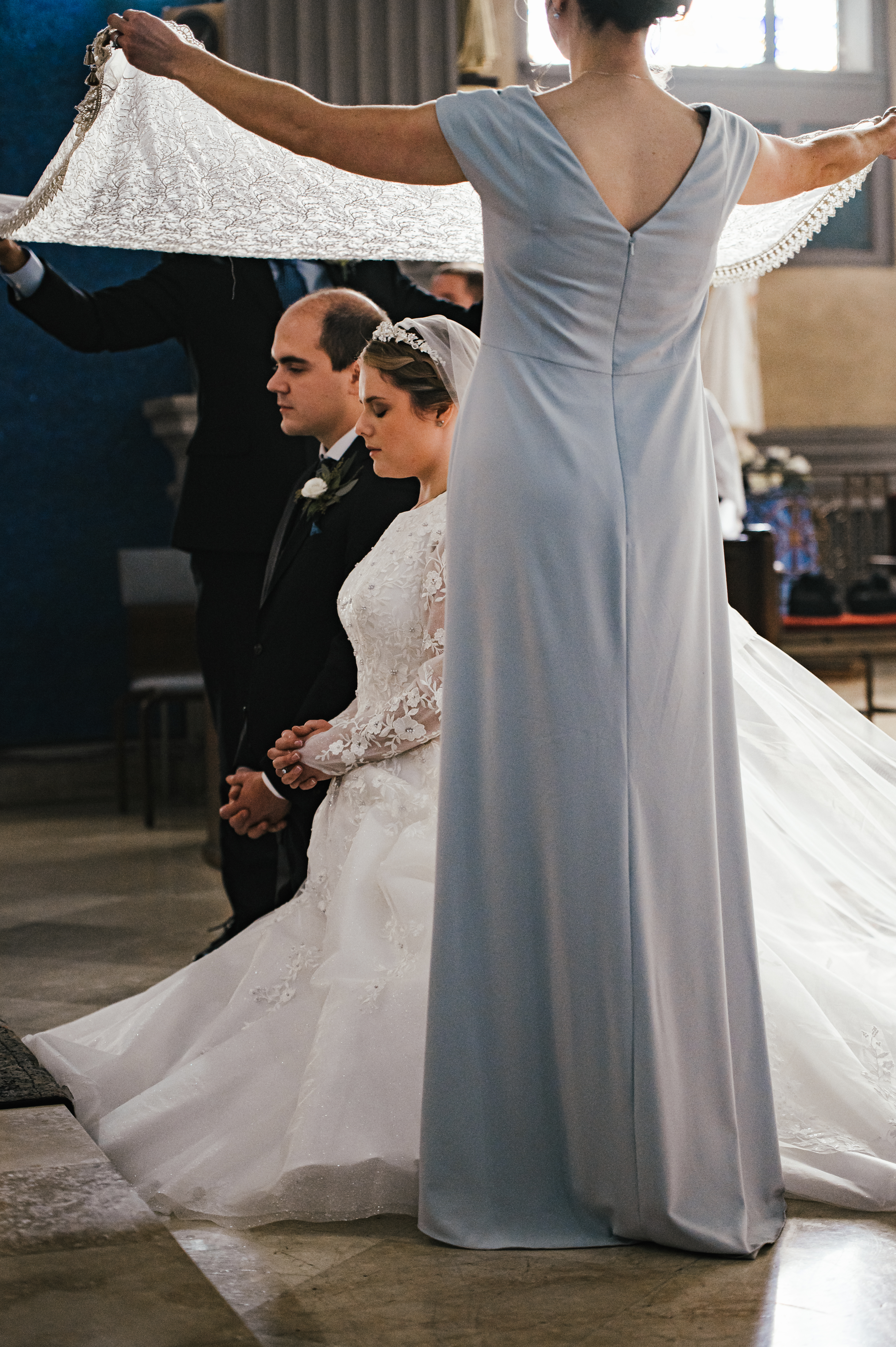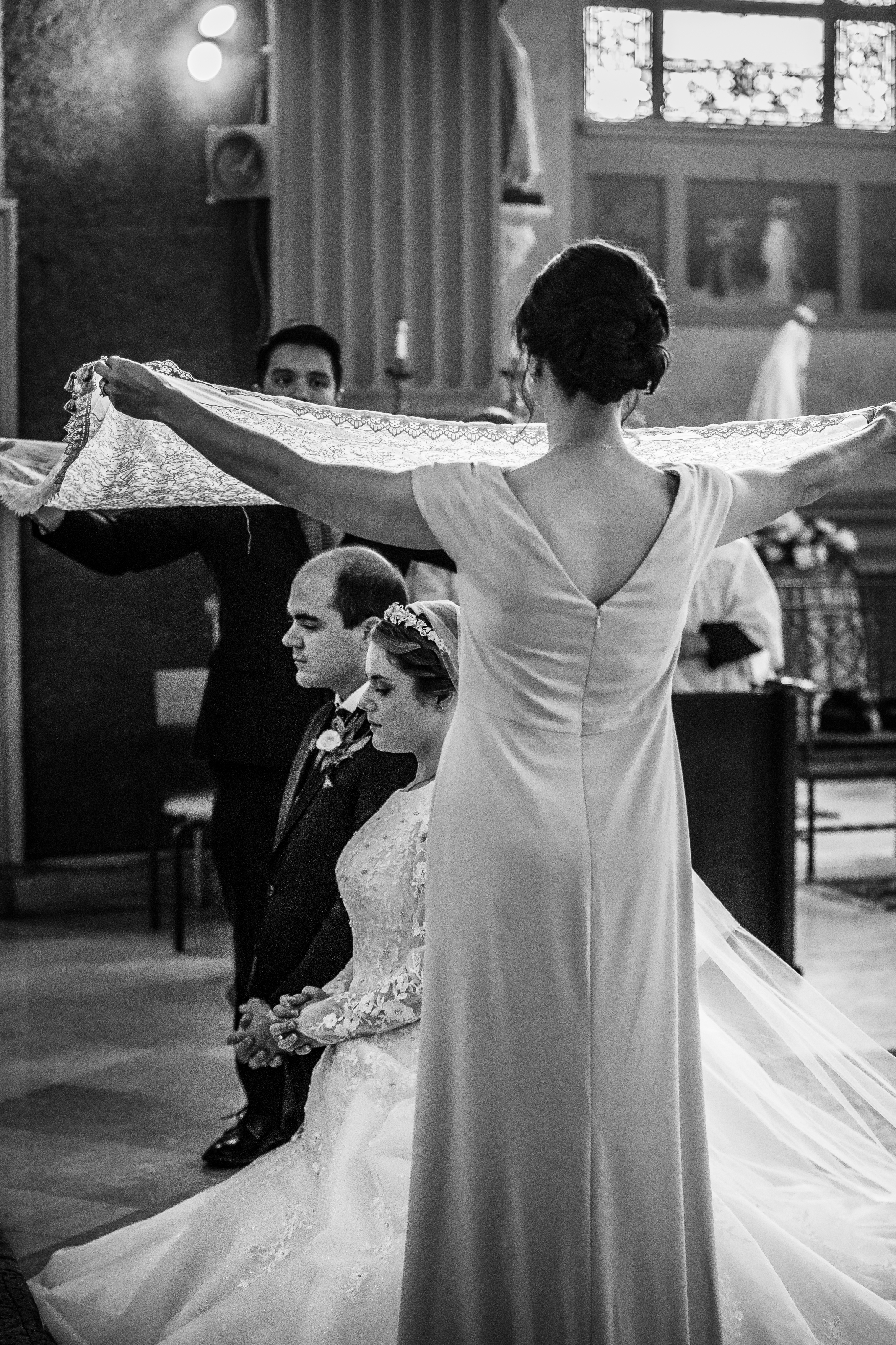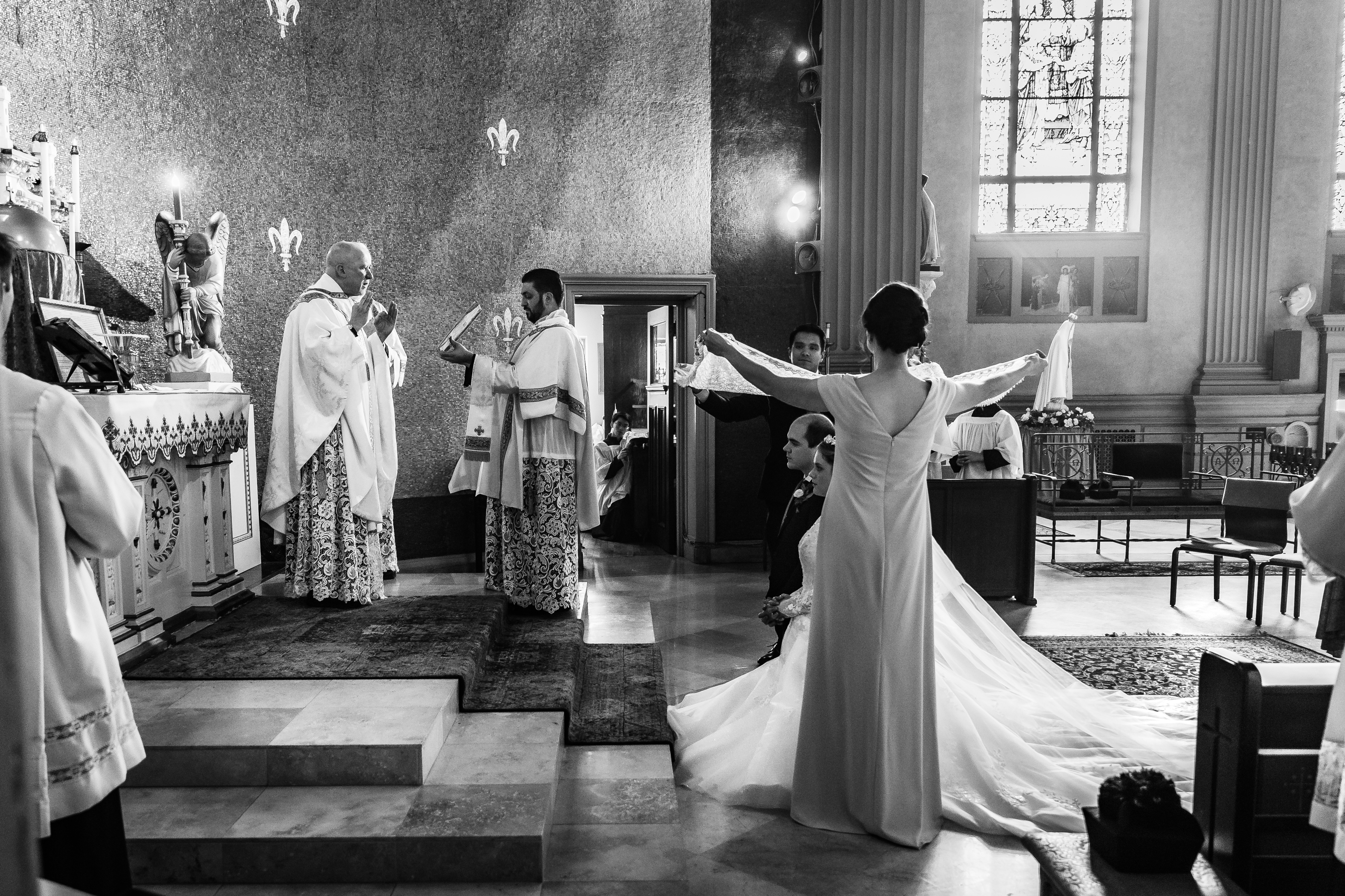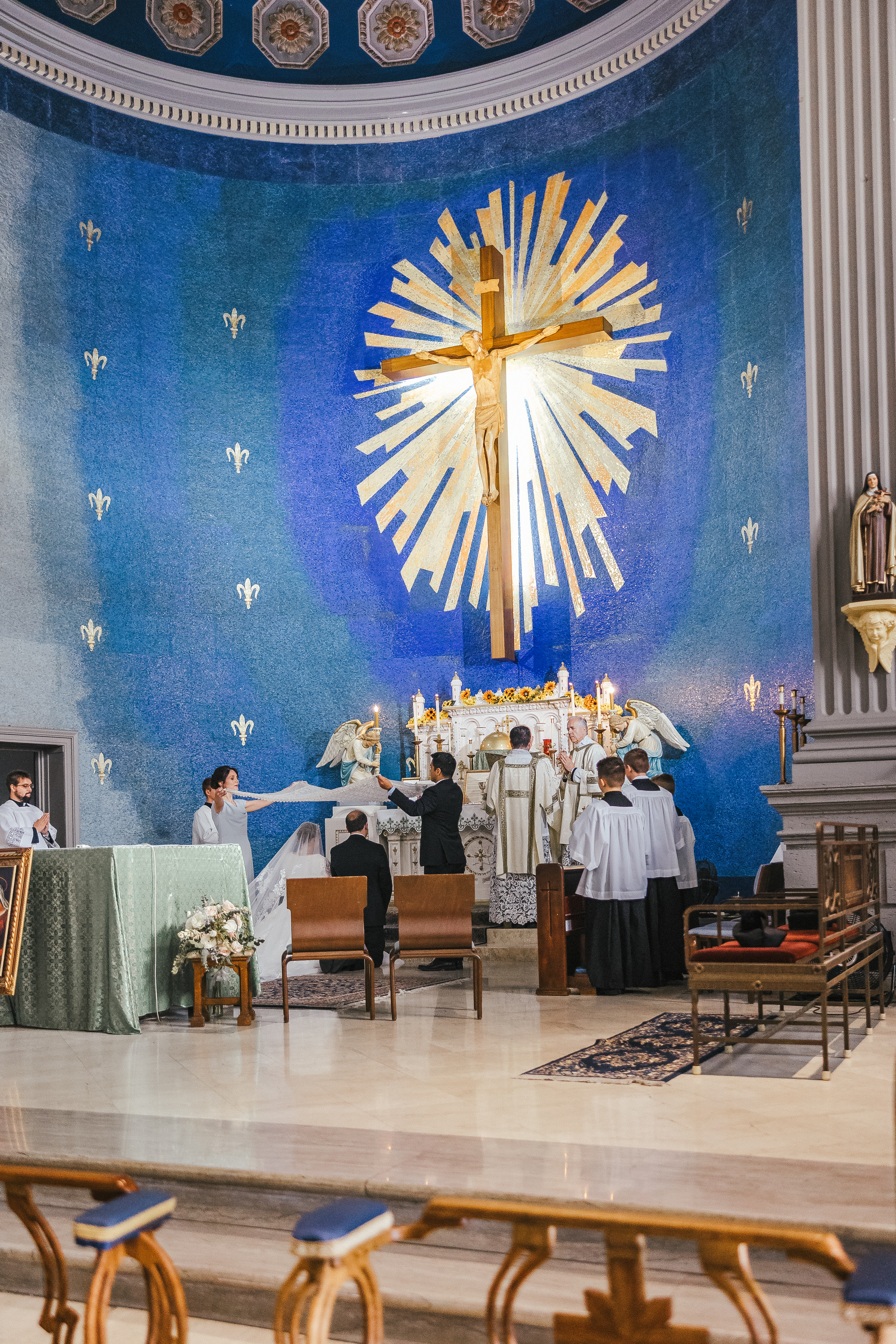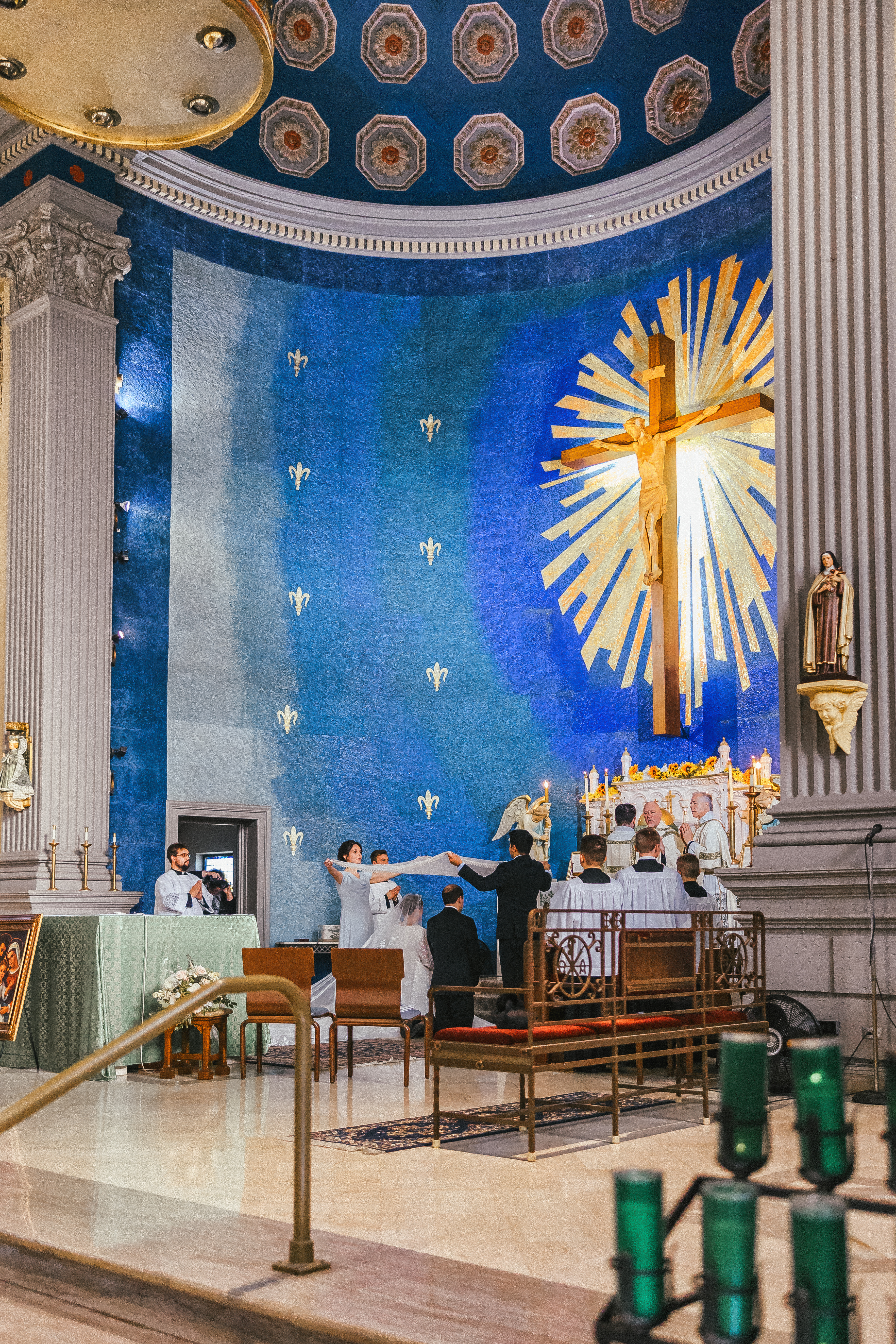 Photo: Allisone Girone, 2022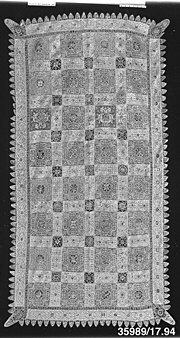 "Cover." Linen, cutwork. Gift of Mrs. Laurent Oppenheim, 1917. Metropolitan Museum of Art, 17th century. https://www.metmuseum.org/art/collection/search/219922. Read more: "Recent Accessions." The Metropolitan Museum of Art Bulletin 12, no. 7 (1917): 157-61. https://doi.org/10.2307/3253810. http://www.jstor.org/stable/3253810.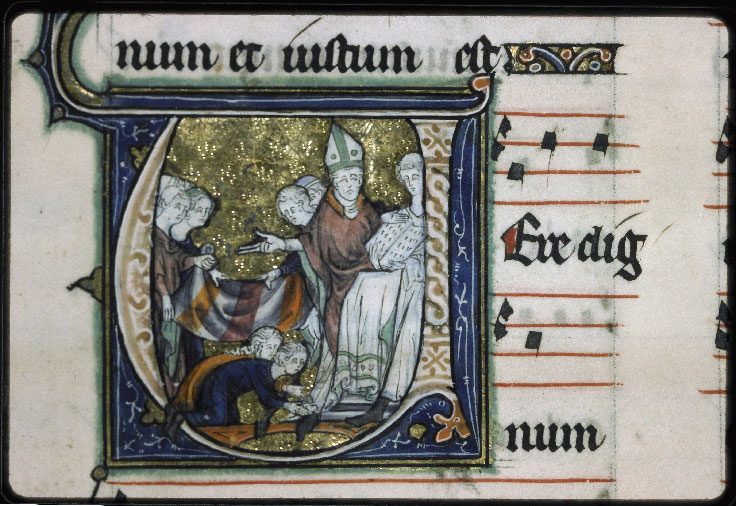 Mariage religieux (France, Auxerre, Trésor de la Cathédrale, Ms. 8 f. 121) https://bvmm.irht.cnrs.fr/consult/consult.php?VUE_ID=1416016
Sources
de Villiers, Henri, "The Velatio Nuptialis: An Ancient (and Forgotten) Part of the Latin Marriage Rite," New Liturgical Movement, 2019, http://www.newliturgicalmovement.org/2019/02/the-velatio-nuptialis-ancient-and.html.
Foley, Michael P. "Coins and Care-Cloths: The Mystagogical Value of Traditional Wedding Customs." Antiphon: A Journal for Liturgical Renewal 18 (2014): 115 - 43.
Kunetka, Frantisek. "From the Oratio Ad Sponsas Velandas to the Benedictio Nuptialis: A Comparative Liturgical Study." Studia Theologica 28 (06/01 2007): 1-17.
Kwasniewski, P. "The Return of the "Care Cloth" at the Traditional Nuptial Mass." New Liturgical Movement (September 13 2021). https://www.newliturgicalmovement.org/2021/09/the-return-of-care-cloth-at-traditional.html#.Yeysfv7MJPZ.
———. "Another Sighting of the "Care Cloth" at a Recent Solemn High Nuptial Mass." New Liturgical Movement (January 21 2022). https://www.newliturgicalmovement.org/2022/01/another-sighting-of-care-cloth-at.html#.Yeysxf7MJPY.
Whately, William. "A Care-Cloth: Or a Treatise of the Cumbers and Troubles of Marriage Intended to Aduise Them That May, to Shun Them; That May Not, Well and Patiently to Beare Them. By William Whately, Preacher of the Word of God in Banbury, in Oxfordshire." (1624). https://quod.lib.umich.edu/e/eebo2/A14992.0001.001/1:3?rgn=div1;view=fulltext.